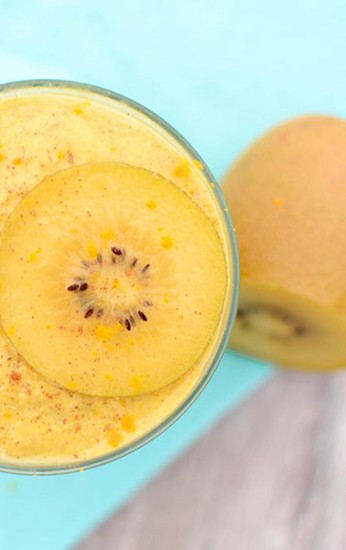 INGREDIENTS

1 small yellow summer squash, quartered and frozen
3 SunGold kiwifruit
⅓ cup of oatmeal
2 tbsp of chia seeds
½ tsp freshly grated ginger
1 tsp turmeric
½ tsp cinnamon
1 cup milk of your choice

METHOD
Wash and quarter the summer squash. Place in the freezer at least 2 hours or until frozen.
Use a spoon to scoop out the kiwifruit flesh.
Add the squash and kiwifruit with the rest of the ingredients in a blender and blend until smooth.
Garnish with kiwifruit slice if desired.
Recipe contributed by Emily Kyle of Emily Kyle Nutrition