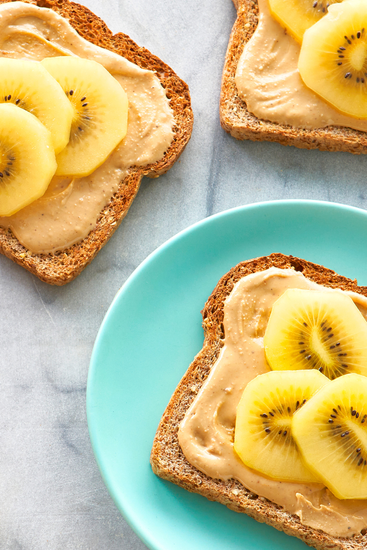 Ingredients:

1 Zespri™ Organic SunGold Kiwifruit
2 slices sprouted grain bread (or any wholesome brown bread)
*Nut butter (recipe below but you can also use a prepared nut butter such as almond butter or even peanut butter)

* Ingredients for Nut butter:
1 cup roasted nuts (choose from roasted almonds, roasted cashews, roasted hazelnuts or roasted pecans)
1 tbsp of seeds (chia, sunflower, hemp are some options)
¼ tsp salt
Sunflower oil

Method for nut butter:
Blend in food processor at high speed until finely ground.  Scrape the sides of the blender. Add few drizzles of sunflower oil, salt and seeds and blend until a creamy butter. Transfer to a jar.  This should store in the fridge for a week.
Spread the nut butter onto toasted bread and top with slices of Zespri™ Organic SunGold Kiwifruit.  Tasty and nutritious!