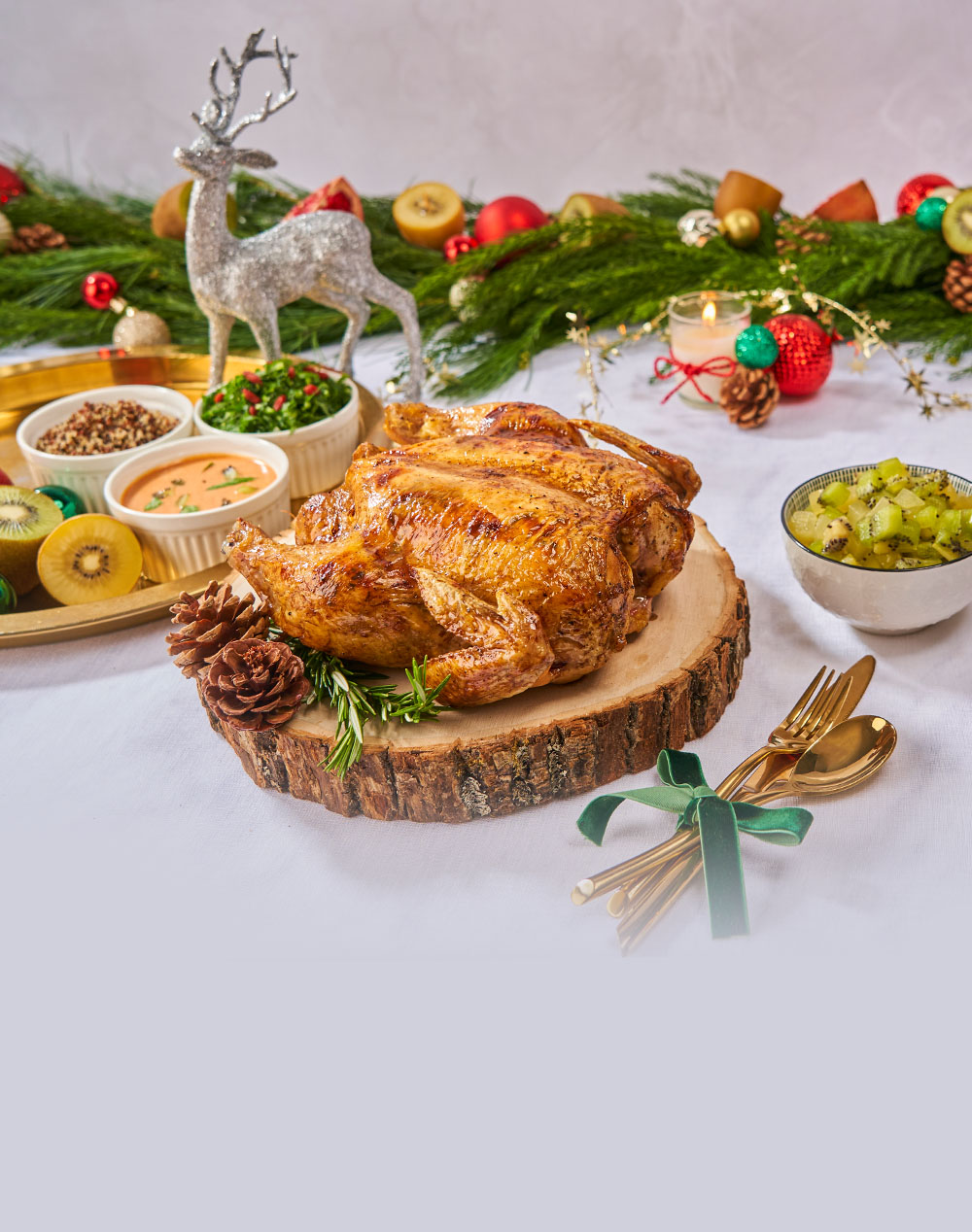 INGREDIENTS
20g miso seaweed compound butter
50g Thai Red Curry Paste
200g coconut cream
200g chicken stock
10g Thai Basil
240g Zespri™ SunGold™ Kiwifruit (diced)
100g mix color quinoa
200g water
150g kale
15g goji berries
Salt
Pepper
METHOD
Prepare the Chicken:
Start to prepare the chicken by gently loosening the skin.
Using your hands massage the compound butter onto the chicken under the skin. Massage the exterior with any remaining butter and generously salt and pepper.
Place in the preheated oven at 200°C for 15 minutes then lower the oven temperature to 175 and continue to roast for 30 more minutes or until cooked (times vary from oven to oven and chicken size).

Prepare Kale Salad:
Cut kale in chiffonade and toss with sesame dressing and goji berries

Prepare Quinoa:
Raise quinoa and place in a pot with water. Cook over moderate heat for 15 minutes or as directed by the package and finish with salt and pepper to taste.

Prepare Thai Red Curry:
Lightly fry red curry paste until fragrant.
Lower heat, add coconut cream and chicken stock, and simmer for 10 minutes.
Add Thai basil and 100 grams of diced kiwi.

Zespri™ Green and SunGold™ Kiwifruit Salsa:
Dice Zespri™ Green and SunGold™ Kiwifruit into 1 cm or smaller squares and toss together.
Plate main course by presenting the whole chicken to the table and carving with the family. Serve each plate quinoa, kale salad, and a very generous portion of red curry topped by the fresh Zespri™ Green and SunGold™ Kiwifruit salsa.
Recipe by Chef Angela May for Zespri Kiwifruit