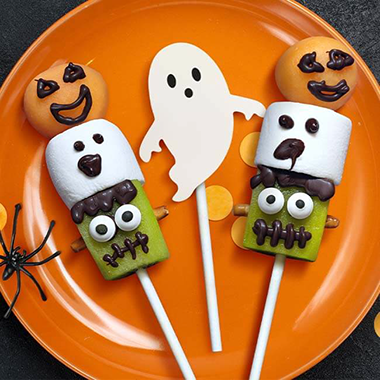 INGREDIENTS
1 rock melon
4 jumbo marshmallows
1-2 Zespri™ Green Kiwifruit
Chocolate bar or melted chocolate
Decorator icing eyes or icing

Equipment / Tools:
Melon baller (or spoon)
Piping bag and 1 piping tip (preferably the smallest round piping tip available)
4 small wooden skewers

METHOD
Use the melon baller (or spoon) to scoop up little orange round "pumpkin" balls from a rock melon.
Cut Zespri™ Green Kiwifruit into cubes, each in similar size, to form the Halloween Frankenstein.
Assemble the little "pumpkin" balls, Zespri™ Green Kiwifruit cubes, and marshmallows onto the small wooden skewers.
Repeat these steps to make 4 Fab-boo-lously Delicious Zespri™ Green Kiwifruit Kebabs.
Put all 4 Fab-boo-lously Delicious Zespri™ Green Kiwifruit Kebabs in the fridge and refrigerate them for an hour.
Melt chocolate bar until smooth. To melt, you may use a microwave or put the chocolate bar into a stainless steel bowl placed on top of boiling water. Be careful when you're removing it!
Pour the melted chocolate into the piping bag with small, round piping tip. (Tip: If you do not have a piping bag, simply pour the melted chocolate into a clean plastic bag. Tie the top firmly and cut open the end.(Start with small cuts and gradually increase the size of the cut where necessary)
Now it's time to draw faces on the fruits and marshmallow. Remove the kebabs from the refrigerator. Ensure that there is no moisture if any of the fruits/ marshmallow.
Draw faces on "pumpkin" balls and marshmallows as you like, be it spooky or cute.
Create your Zespri™ Green Kiwifruit Frankenstein eyes with icing and a tiny dot of chocolate melt.
Refrigerate them for another hour before serving.