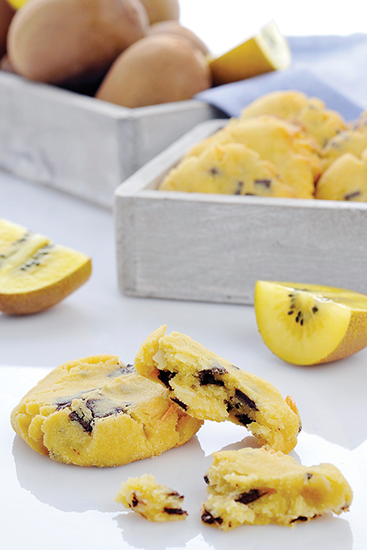 Ingredients
3 Zespri SunGold Kiwifruit
20g sliced almonds
20g ground hazelnuts
140g corn flour
120g rice flour
100g butter at room temperature
50g sugar
1 teaspoon bicarbonate of soda (baking soda)
30g chocolate chips
METHOD
Peel the Zespri SunGold Kiwifruit and crush them with your hands in a large bowl. Mix the flour with the sugar and the bicarbonate of soda. Add the rest of the ingredients and knead the dough until it's dense and smooth. Let the dough rest in the fridge for 30 minutes.
Divide the dough into evenly sized balls. Place on a baking tray lined with baking paper. Gently press down on each ball to make rough coin shapes.
Transfer to an oven, pre-heated to 180°C, for 15-18 minutes. When done, remove, place on a wire rack or similar and allow to cool before eating.
When making biscuits, always use butter that's at room temperature (softened) and not melted in a microwave or in a pan. When the whey and the fat separate you end up with an overly greasy and unappealing end product.