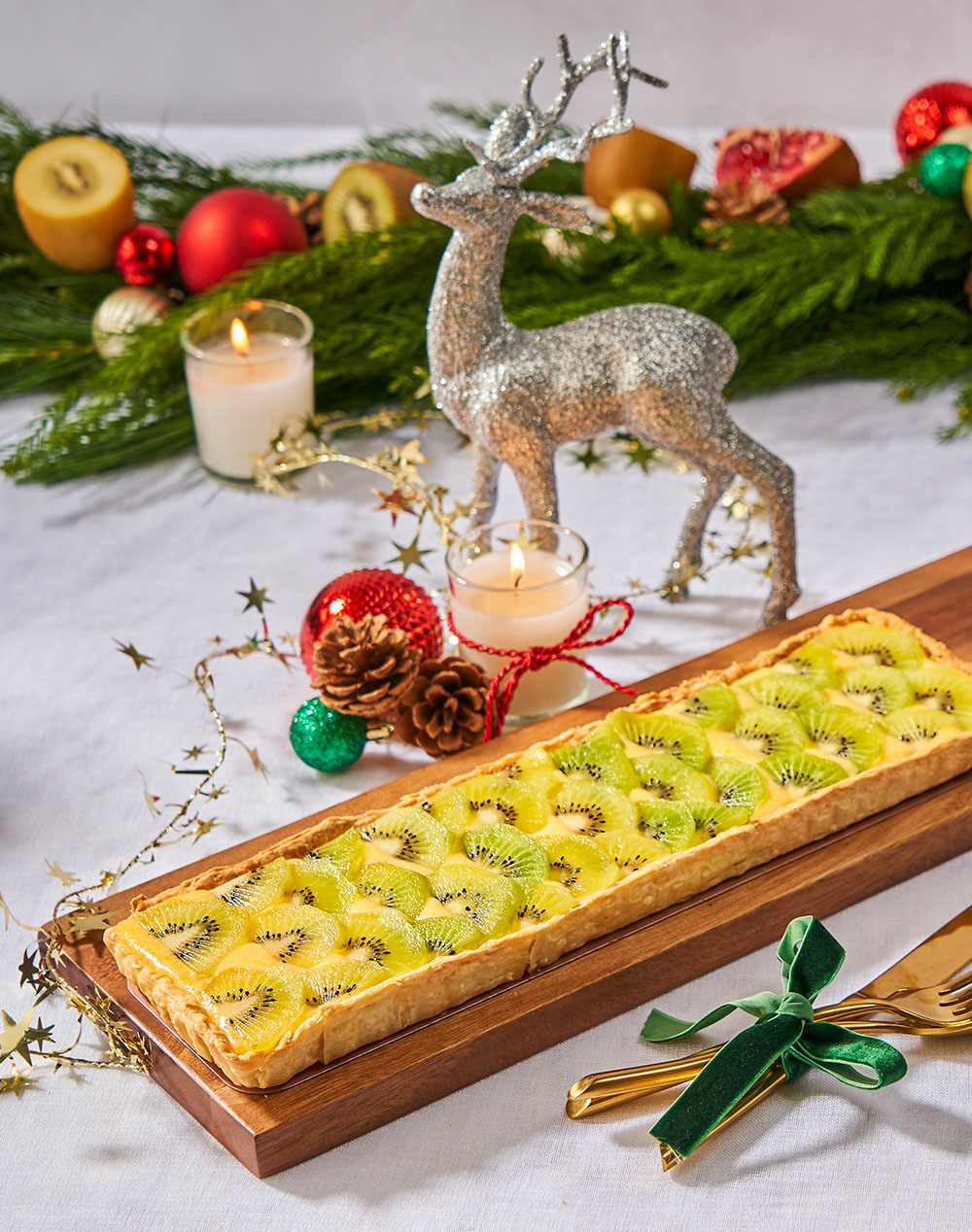 INGREDIENTS
Zespri™ SunGold™ Kiwifruit and Mango Curd
140g diced mango
100g Zespri™ SunGold™ Kiwifruit
80g fresh lemon juice
100g sugar
Vanilla
3 egg yolks
1 whole egg
115g cold butter diced

Almond Tart Base
170g unsalted butter
1 big pinch of salt
100g powdered sugar
50g almond flour
300g flour
1 egg

Zespri™ Green Kiwifruit Topping
4 to 5 Zespri™ Green Kiwifruit
200g Crème Fraiche

METHOD
Zespri™ SunGold™ Kiwifruit and Mango Curd Method:
Using a hand blender, puree the Zespri™ SunGold™ Kiwifruit together with mango and lemon juice.
Create a double boiler by placing a bowl over a pot of simmering water.
Place the puree, sugar, eggs and vanilla in the bowl and whisk making sure not to allow any of the mixture to sit on the bottom of the bowl. Continue whisking until lightly thicken approximately 8 minutes.
Immediately remove from heat and place the whole bowl on an ice bath and whisk in butter piece by piece to cool and emulsify.
Place into a glass container and cover the top with cling film to prevent a skin from forming. Refrigerate.

Almond Tart Base Method:
Using a stand mixer cream butter and sugar, add salt and almond flour on low. Add the egg and continue to mix until just combined. On very low speed add the flour and mix just until the dough comes together. Note: Do not over mix
Remove from mixing bowl and flatten into a disk shape and cover tightly with cling film. Allow to rest refrigerated overnight.
When ready to bake, remove from the fridge and divide into two pieces. (Reserve second piece for another tart)
Place dough into between two sheets of baking paper. Roll out into a rectangle shape. Line tart tin with dough gently pushing into shape. Remove excess dough.
Dock the bottom of the pie tin with a fork ten times and allow to rest in the fridge for at least one hour.
Bake with pie weights on 170°C for 25 minutes or until golden brown. Allow to cool.

Tart Assembly Method
Slice Zespri™ Green Kiwifruit in half-length wise, continue to slice each kiwi in thin half-moon slices
Fill a piping bag with cold Zespri™ SunGold™ Kiwifruit and Mango curd. Pipe curd into cooled tart crust carefully piping into each corner.
Begin to layer Zespri™ Green Kiwifruit moons slightly overlapping in one row. Line the new row up by placing the upper most arch into the seam of the above Zespri™ Green Kiwifruit making a chinoiserie fan pattern row by row until the whole tart is covered in an organized fashion. Chill until ready to serve.
Serve with a large spoonful of crème fraiche.
Recipe by Chef Angela May for Zespri Kiwifruit