SUNGOLD
™

KIWIFRUIT RECIPE IDEAS FROM

SUNRISE TO SUNSET
Did You Know

How To's

Health & Lifestyle

Cooking Ideas
We all have hectic lives. Most of us are constantly on the go. In this fast-paced world, it's important to fuel up. Thankfully, we have Zespri™ SunGold™ Kiwifruit, a delicious fruit that's as versatile as it is flavourful, and high in Vitamin C to help keep you healthy.
But our SunGold™ Kiwifruit is not just a healthy choice for a "cut & scoop" snack. There are great ways to easily incorporate golden kiwifruit into every meal, whether it's breakfast, lunch or dinner!
Breakfast - SunGold™ Kiwifruit Bowls
You want to start your day with a nutritional bang, right? So wake up to a breakfast that is delicious, filling and, above all, high in vitamin C.
Prepare this simple breakfast bowl the night before and refrigerate overnight. You'll go from sleepy-head to happy-head in no time, with fuel needed to take on the day!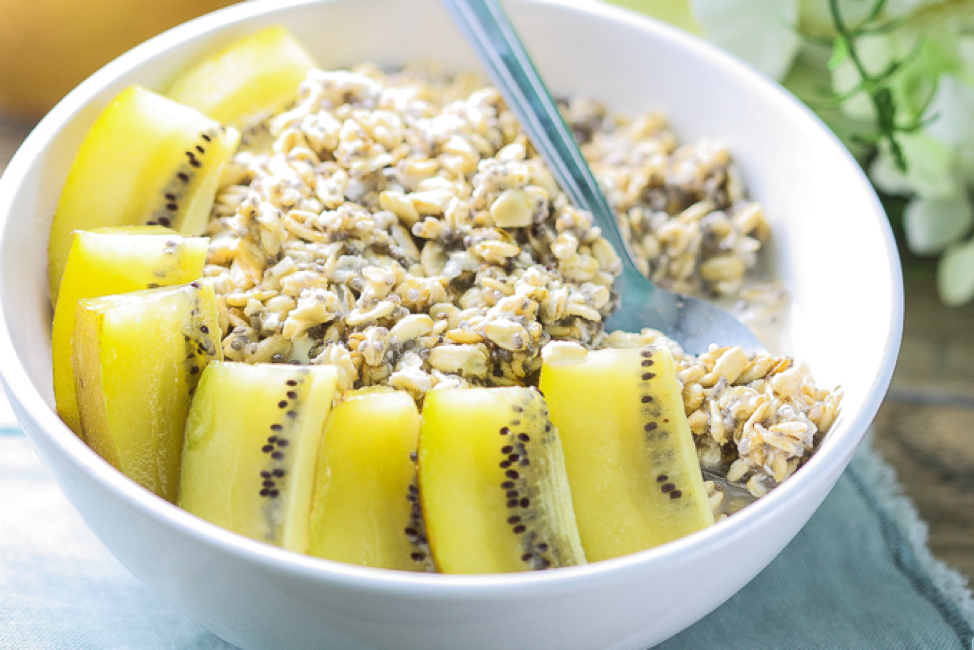 Lunch - from salads to sandwiches
The best lunches deliver high nutritional content in smaller packages. You don't want to weigh yourself down when you're only halfway through the day. Kiwifruit is a perfect option. It is high in vitamin C, contains potassium, and its fibre content helps makes you feel full. Try Zespri™ SunGold™ Kiwifruit on your next salad or sandwich - or simply cut and scoop one.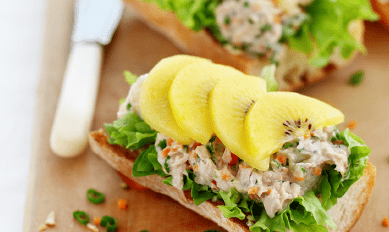 Mid-Afternoon SunGold Snack
On its own, Zespri™ SunGold™ Kiwifruit is the perfect mid-afternoon snack. Just drop a couple in your bag on your way out and you have an extremely portable snack that's easy to eat, just cut and scoop. Kiwifruit is high in vitamin C to help you get through the rest of your day in a healthy way. Feeling like a more substantial snack? Why not team a Zespri™ SunGold™ Kiwifruit with yoghurt, some nuts & seeds or even make a SunGold smoothie.
Dinner more Delish!
Zespri™ SunGold™ Kiwifruit is delicious in salads and salsas. Some even put it on pizza! Why not try a new flavour combination tonight?
Drink it all up
From smoothies to juices & infused waters, Zespri™ SunGold™ Kiwifruit has endless drink combinations. Check out a few of our favourites.