Kiwifruit: Delicious, Nutritious, and
Loaded with Vitamin C
Did You Know

Health & Lifestyle
When you think of a fruit with a lot of vitamin C, the first thing to come to mind may be an orange. But did you know Zespri Kiwifruit has more vitamin C per serving!?
This little fruit packs a nutritional punch! With a high content of vitamin C, fiber, antioxidants, vitamins and minerals, kiwifruit is one of the highest nutritional value fruits on the market, with our SunGold Kiwifruit claiming the top spot.
Now, let's look at nutritional density – the quantity of nutrients a fruit provides relative to the number of calories it contains1. Zespri SunGold Kiwifruit, loaded with more than 20 vitamins and minerals, has a score of 22.5, which is six times that of apples!
There are a ton of nutrients packed into Zespri SunGold Kiwifruit, like fiber, folate and potassium, but its high content of vitamin C is the star of the show. Per 100g, SunGold Kiwifruit has 161.3mg of vitamin C, which means a serving of two has more than twice the recommended daily value of vitamin c intake.
Vitamin C is known to produce energy and boost your immune system, give your skin the nutrients it needs to look its best, and improve iron absorption. This essential nutrient is just one of the many reasons kiwifruit can be a nutritious and delicious part of living a healthy life.
The nutritional table for Zespri Green and Zespri SunGold Kiwifruit reflects the variety and amount of nutrients that the fruit provides. It also reports the recommended daily amount of each nutrient and shows how kiwi helps you achieve these levels every day2,3.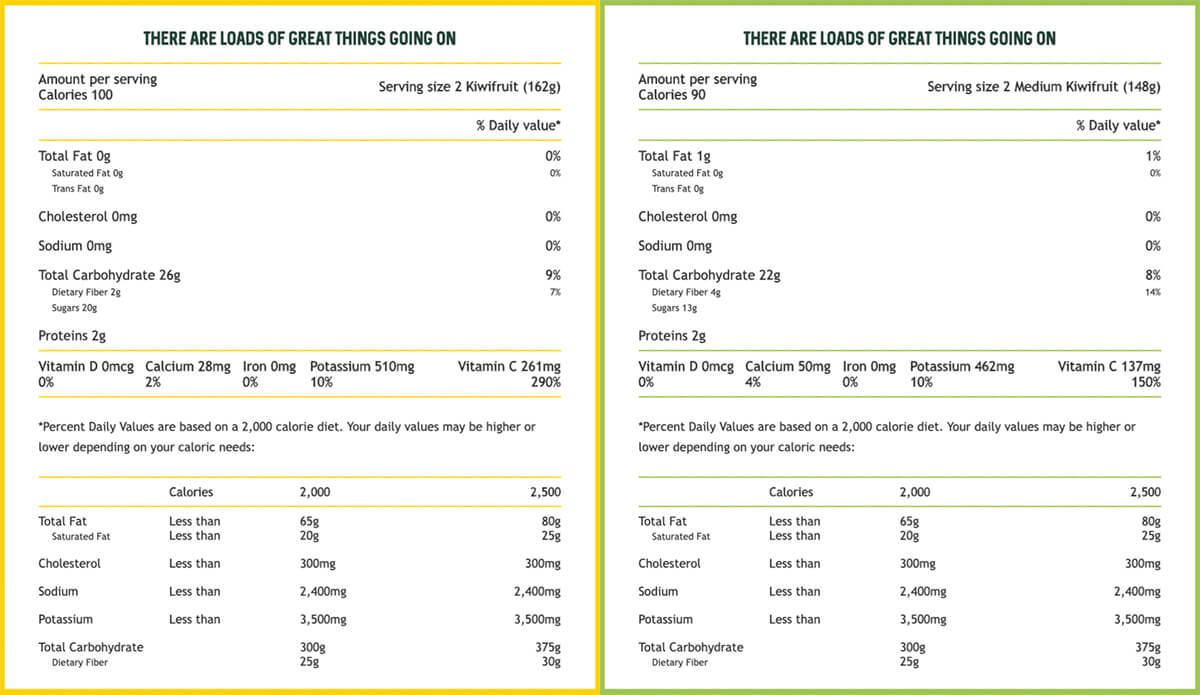 Ready to add kiwifruit to your daily dose of delicious? Check out some of our recipes for easy ways to incorporate more vitamin C into your diet.
References
Darmon N, Darmon M, Maillot M, Drewnowski A. A nutrient density standard for vegetables and fruits: nutrients per calorie and nutrients per unit cost. J Am Diet Assoc. 2005; 105: 1881-7.
USDA. USDA national nutrient database for standard reference 2018.
USDA. USDA Nutrient Database of 2018.