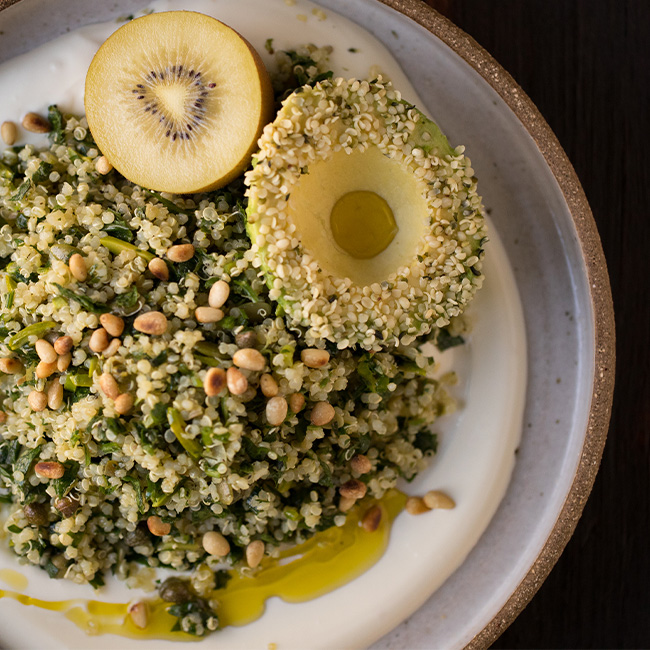 INGREDIENTS
260 g (2 cups) cooked quinoa
1 bunch parsley, chopped
Small bunch mint, chopped
3 spring onions, sliced
30 g pumpkin seeds
30 g pine nuts, toasted
2 avocados, halved
2 tablespoons hemp seeds
Sea salt and white pepper to taste
2 lemons
60 g capers
3 tablespoons extra virgin olive oil
4 Zespri™ SunGold™ Kiwifruit, halved
250 g natural Greek yoghurt or hummus

METHOD
COMBINE quinoa, parsley, mint, spring onion, the juice of 1 lemon, olive oil, pumpkin seeds, pine nuts, salt, and pepper into a large bowl. Taste and adjust flavourings, adding a little more lemon if required.
SPREAD a few tablespoons of yoghurt onto the base of 4 serving plates;
PILE the tabouli over the yoghurt.
DIP the tops of the avocado halves into the hemp seeds and arrange over the tabouli. Place the Zespri™ SunGold™ Kiwifruit halves next to the avocado and sprinkle the salad with roasted pine nuts.
DRIZZLE over a little extra olive oil and squeeze of lemon, then enjoy.
Notes: Superfood Tabouli will keep for several days in the fridge. Serve this topped with a creamy Persian or goat's feta.