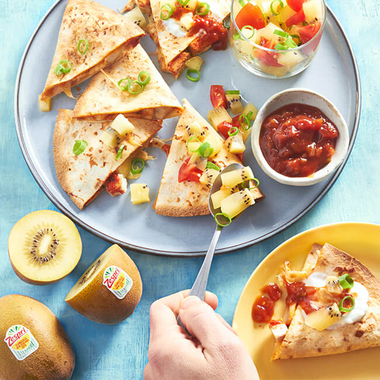 INGREDIENTS
2 Zespri™ SunGold™ Kiwifruit, ends removed
2 flour tortillas
3 tsp pizza paste
1/3 cup diced cooked chicken meat
¼ cup shredded pizza cheese (a combo of mozzarella, cheddar and parmesan)
Oil spray
2 cherry tomatoes, diced
1 green shallot, thinly sliced
Mild tomato salsa and sour cream, to serve
METHOD
Cut one Zespri™ SunGold™ Kiwifruit in half, finely dice, and set aside. Roughly dice the remaining Zespri™ SunGold™ Kiwifruit and set them aside in a small bowl for serving.
Place one tortilla on a flat surface. Spread half with half of the pizza paste. Scatter with half the chicken, half the finely diced Zespri and half the cheese. Fold the tortilla in half to cover the filling, and gently press down.
Repeat step 2 with the remaining tortilla and filling.
Place folded tortillas in the basket of an air fryer. Lightly spray with oil. Air fry at 180C for 7 minutes, flipping halfway through until tortillas are golden and the cheese melted.
Add tomato and shallot to the roughly diced Zespri™ SunGold™ Kiwifruit and serve with quesadillas and tomato salsa and sour cream.