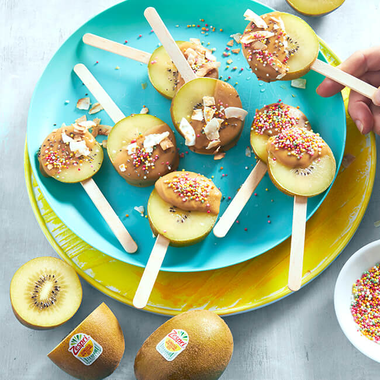 INGREDIENTS
2 Zespri™ SunGold™ Kiwifruit, ends removed
¼ cup smooth peanut butter
Shredded coconut, chia seeds or hundreds and thousands, to decorate
METHOD
Cut Zespri™ SunGold™ Kiwifruit into 1.5 cm thick rounds.
Insert a craft stick firmly into each slice. Use a piece of paper towel to pat the slices dry. (this will help the peanut butter stick)
Warm peanut butter in the microwave for about 10 seconds or until a dippable consistency.
Dip Zespri™ SunGold™ Kiwifruit rounds into peanut butter until they are partially coated. Transfer to a plate lined with a sheet of baking paper.
Sprinkle peanut butter with coconut, chia seeds and/or hundreds and thousands.
Freeze pops for 15 minutes for a chilled treat, or freeze for an hour or overnight for a frozen treat.