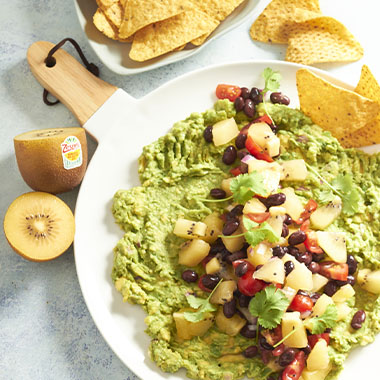 INGREDIENTS
2 Zespri™ SunGold™ Kiwifruit, peeled
¼ cup canned black beans, rinsed
¼ cup cherry tomatoes, diced
¼ small red onion, finely diced
2 ripe avocado, skin and seeds removed
1 tablespoon lime juice
2 tsp sweet chilli sauce
Salt and pepper, to season
coriander sprigs, to garnish
Natural corn chips, to serve

METHOD
Put Zespri™ SunGold™ Kiwifruit in a medium bowl. Add beans, tomatoes and half of the onion. Gently toss to combine then set aside to allow flavours to infuse.
Place avocados, lime juice, sweet chilli sauce and remaining onion in a large bowl. Use a fork to mash together. Season.
Place avocado mixture on a large flat serving plate and use a fork to spread it out. Top with Zespri™ SunGold™ Kiwifruit salsa, garnish with coriander. Serve with corn chips on the side.