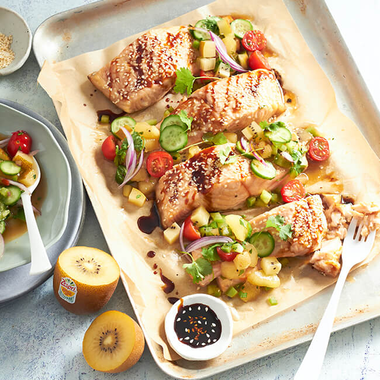 INGREDIENTS
2 Tbsp lime juice from 1 lime
1 tsp fish sauce
1 tsp caster sugar
1 tsp soy sauce
1 tsp finely grated ginger
½ tsp sesame oil
3 Zespri™ SunGold™ Kiwifruit, unpeeled, diced
½ cup cherry tomatoes halved
2 baby cucumbers, thinly sliced
¼ small red onion, finely sliced
1 Tbsp finely chopped coriander leaves, plus extra sprigs to garnish
4 fillets of boneless, skinless salmon
2 tsp sesame seeds
Kecap manis (sweet soy sauce), to drizzle
METHOD
Preheat oven to 220°C fan-forced. Line an oven tray with baking paper.
Combine lime juice, fish sauce, caster sugar, soy, ginger, and sesame oil in a small jug or bowl. Set aside.
To make the salsa salad, put Zespri™ SunGold™ Kiwifruit in a medium bowl. Add tomatoes, cucumber, onion, and coriander. Set aside.
Arrange salmon on a prepared tray. Brush with 2 tsp of the lime mixture and sprinkle with sesame seeds. Bake for 7 minutes or until the salmon is cooked. It would look opaque pink and be able to be flaked when tested with a fork.
Meanwhile, add the remaining lime juice mixture to the salsa. Gently toss to combine.
Serve salmon with salsa salad, a drizzle of kecap manis and extra coriander sprigs to garnish.
Serving suggestion: Serve with steamed rice, fluffy couscous and/or a bowl of fresh mixed green leaves on the side.