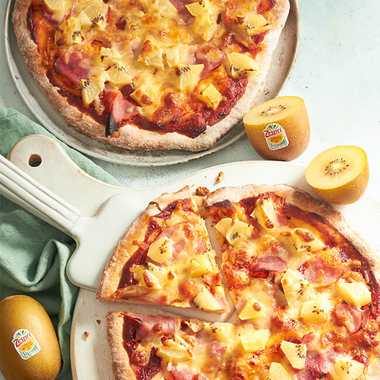 INGREDIENTS
1 ½ cups self-raising flour, plus extra to dust
1 cup Greek-style yoghurt
3 Tbsp pizza paste
1 cup shredded pizza blend cheese
50g sliced leg ham, torn into bite-size pieces
2 Zespri™ SunGold™ Kiwifruit, peeled, diced
METHOD
Preheat oven to 220°C fan-forced.
Put flour and yogurt in a large bowl. Mix with a butter knife, using a cutting action to briefly combine, forming a shaggy dough. Use your hands to bring the dough together into a ball. Transfer to a bench lightly dusted with flour. Knead dough until smooth dough ball forms, adding a little more flour as needed to keep the dough from sticking to the bench.
Cut dough in half, and roll each into a ball. Use a rolling pin to roll the balls out into 26cm diameter pizza bases. Place each on an oven tray lightly dusted with flour. Use a fork to poke holes all over the dough, approx. 15 times on each.
Bake the pizza bases for 5 minutes to partially cook. They will slightly puff up - it's okay.
Remove from the oven and carefully spread both bases with pizza paste, half the cheese, followed by the ham and Zespri™ SunGold™ Kiwifruit, and then finally the remaining cheese.
Return to the oven and bake for a further 10 minutes or until the base crust is golden brown and the cheese has melted. Serve.