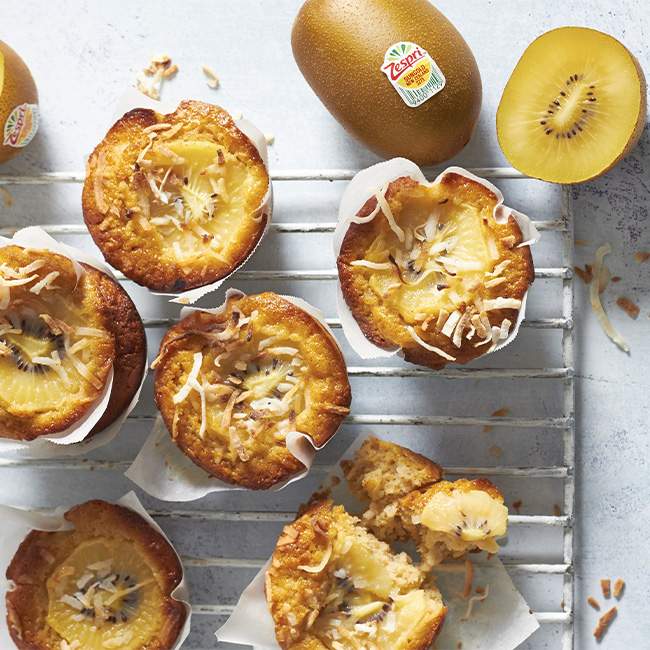 INGREDIENTS
3 Zespri™ SunGold™ Kiwifruit, peeled
1 ripe banana, peeled
100g butter, melted
3 eggs
½ cup Greek-style natural yoghurt
½ cup caster sugar
¼ cup moist coconut flakes, plus extra 2 Tbsp
1 cup self-raising flour
1 tsp ground cinnamon

METHOD
Preheat the oven to 180°C fan-forced. Line a 12-hole (1/3 cup capacity) muffin tin with paper cases or squares of baking paper.
Roughly chop 1 Zespri™ SunGold™ Kiwifruit, place into a large bowl along with banana. Use a fork to mash together until smooth.
Add butter, eggs, yogurt, sugar and coconut. Stir with a fork to combine, then sift in flour and cinnamon, stirring again until just combined. Spoon batter evenly among muffin tin holes.
Thinly slice remaining Kiwifruit and place a slice on each, in the center of the batter. Scatter with extra coconut flakes.
Bake for 20-25 minutes or until golden and cooked through. Cool in tin for 5 minutes then remove and allow to cool on a wire rack. Serve warm or at room temperature.
ZESPRI™ TIP: Going on a picnic? These little muffins can be easily transported in the muffin tin they were baked in, or in a large air-tight container.