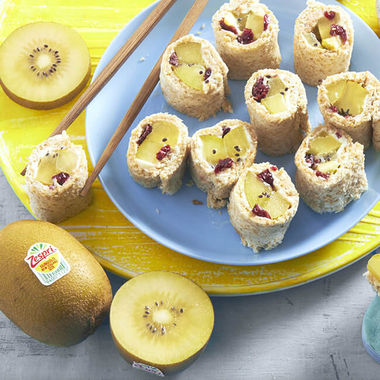 INGREDIENTS
¼ cup spreadable cream cheese
2 tsp icing sugar mixture
5 large slices square-shaped wholemeal bread, crusts removed
2 Zespri™ SunGold™ Kiwifruit, ends removed
2 Tbsp dried cranberries
Yogurt and honey, to dip

METHOD
Combine cream cheese and sugar in a small bowl.
Use a rolling pin to flatten bread slices.
Spread bread with cream cheese mixture.
Slice each Zespri™ SunGold™ Kiwifruit into approx. 1cm thick batons. Place 2 rows of batons along one edge of each slice of bread, trimming length to fit the bread. Scatter cranberries on top. Roll up tightly to enclose.
Use a serrated knife to cut each roll into three.
Serve frushi with yogurt and honey to dip.