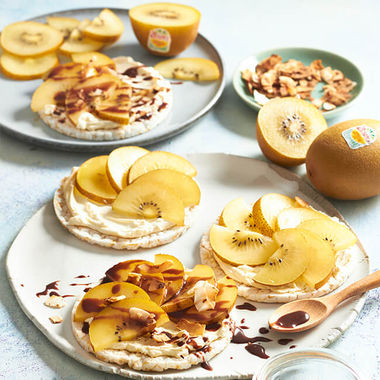 INGREDIENTS
2 Zespri™ SunGold™ Kiwifruit
4 thin rice cakes
4 Tbsp spreadable cream cheese
1 Tbsp chocolate hazelnut spread, warmed (See note)
Toasted coconut flakes, to garnish

METHOD
Leaving the skin on (optional), slice Zespri™ SunGold™ Kiwifruit in half lengthways. Slice into thin half-moons.
Spread cream cheese onto rice cakes.
Arrange Zespri™ SunGold™ Kiwifruit on top.
Drizzle chocolate hazelnut spread over the top, garnish with a scattering of coconut.
Serve.
Note – Warm chocolate hazelnut spread in a bowl in the microwave. To make the mixture even thinner, you can add a couple of teaspoons of warm water, stirring well until smooth.