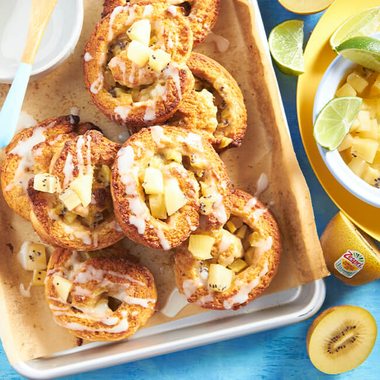 INGREDIENTS
1 ½ cups self-raising flour
1 ½ cups wholemeal self-raising flour
⅓ cup caster sugar
1 teaspoon baking powder
1½ cups plain Greek-style yoghurt
1/3 cup extra virgin olive oil, light in flavour
2 tablespoons brown sugar
4 Zespri™ SunGold™ Kiwifruit, peeled, finely chopped
1 lime
¼ cup icing sugar mixture

METHOD
Preheat oven 190°C fan-forced. Line two oven trays with baking paper.
Put flours, caster sugar and baking powder into a large bowl, stir to combine. Make a well in the centre and add yoghurt and oil. Use a butter knife, in a cutting action to combine until you have a rough shaggy dough, then use your hands to bring the dough together to form a ball.
Roll dough out between two sheets of baking paper to form a 25cm x 35cm rectangle. 1cm thick. (if you find the dough too sticky to work with, you can add an extra sprinkle of flour)
Scatter brown sugar evenly over the dough, then scatter 3 of the Zespri™ SunGold™ Kiwifruit on top, leaving a 1cm border. Finely grate the zest of the lime over the top.
Starting from one of the long sides, roll up the dough tightly. Use a serrated knife to slice the log into 12 even scrolls.
Arrange scrolls flat on the oven trays, approx. 4cm apart. Bake for 25 minutes or until golden. Set aside on trays to cool to room temperature.
Put the icing sugar into a bowl. Add the juice from the zested lime about 1 tsp at a time until a honey-consistency icing forms. Drizzle icing over cooled scrolls.
Serve scattered with remaining Zespri™ SunGold™ Kiwifruit.
COOKS TIP
Due to the healthier nature of these scrolls, they are best enjoyed on the day of baking. However, if you do have leftovers to enjoy over the following few days, just a couple of minutes in an air fryer will return these scrolls back to their 'freshly baked' selves.