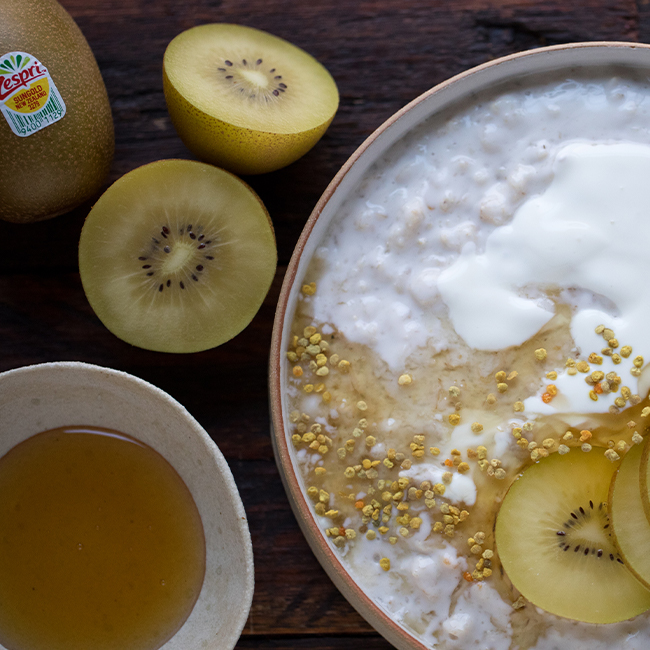 INGREDIENTS
PORRIDGE
100 g (1 cup) rolled oats
2 teaspoons vanilla extract
375 ml almond milk or your choice of milk
pinch of flaky sea salt
375 ml water
4 generous tablespoons thick Greek-style yoghurt to serve (optional)
COMPOTE
4 Zespri™ SunGold™ Kiwifruit, peeled, quartered, and chopped (you can also slice into rounds)
2 tablespoons raw honey
1 tablespoon freshly squeezed lemon juice
15 g fresh grated ginger
a sprinkle of bee pollen (optional)
METHOD
PORRIDGE
COMBINE oats, vanilla, almond milk, water, and a pinch of salt into a saucepan.
SIMMER gently over medium-low heat for 15 minutes, frequently stirring, until the oats are tender, and the mixture is thick and creamy. Add a little more milk or water if your porridge starts to become too thick.
DIVIDE the porridge among serving bowls and top with a swirl of Greek yoghurt.
PILE OVER the compote over the top and finish off with a little sprinkle of bee pollen if using.
ENJOY.
COMPOTE
COMBINE the honey, lemon juice and ginger into a small bowl and mix through.
FOLD IN the Zespri™ SunGold™ Kiwifruit and allow to stand for 10 minutes while you make the porridge, allowing the flavours to develop.
SPOON compote over the porridge and enjoy.