SUSTAINABILITY

 

THE ZESPRI WAY
SUSTAINABILITY

 

THE ZESPRI WAY
Having a brand that is recognizable for what it stands for as much as for the quality of its fruit demonstrates our unwavering commitment to making a difference day to day.
Over the year's we've built strong, thriving communities in New Zealand and across the globe as the consumer demand for our kiwifruit grows due to its great taste and nutritional benefits. We have enjoyed excellent growing conditions and treaded lightly on the land.
But we know there's more for us to do.
Our consumers expect this of us, as we do of ourselves.
We're committed to succeeding the right way — making sure we care for our environment, our community and our kiwifruit. That's why we are proud of our bold sustainability targets and commitments.
Read more about the announcement of the targets and commitments we made at our industry conference (February 2020) here.
OUR
 STRATEGY
Sustainability is a major focus for us at Zespri - it sits at the heart of our purpose to help growers, communities, the environment and our consumers thrive.
We engaged with our stakeholders to understand the priority areas where we can make the biggest difference to protect and enhance the planet and society as well as deliver value for our business.
The results of this process were supported by a review of leading industry research and global sustainability trends. The stakeholder groups we continue to engage with on a regular basis include; New Zealand and internationally based growers, packhouse and coolstore representatives, industry representative groups, Maori growers, Zespri's global distribution partners, our consumer insights team and Zespri employees.
It's about stepping up to show leadership and we are confident that we have identified what matters most to our customers, consumers and our industry.
More and more people want to connect with companies that produce their food, to understand how and where it is grown, as well as how sustainability is embraced right through the supply chain.
Through our reputation, scale and the revenue we generate, comes significant opportunity and responsibility to our communities, the environment and our people.
For more information about how we govern sustainability, please read the Kiwifruit Industry Sustainability Position Statement (click here).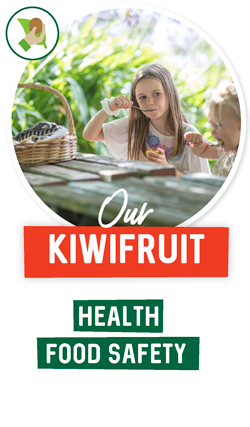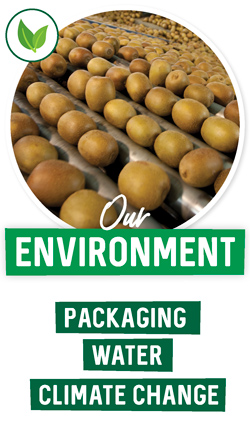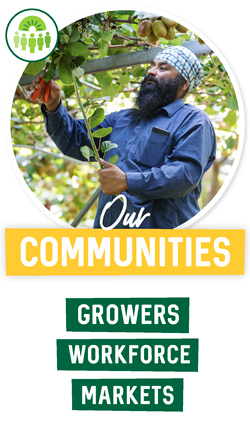 OUR
TARGETS AND ACTIONS
As part of demonstrating our commitment to sustainability we've set ambitious targets that align with our purpose, our brand promise and our premium product position.
For each of our priorities, we have dedicated work programs, focusing on achieving our targets and caring for the health of our consumers, our environment and our community along the way.
Through our kiwifruit we will promote healthy eating and lifestyles, actively encouraging people to eat better and live healthier.
We're striving to address how production, supply and sales impact on and enhance the environment with a focus on packaging, water quality and climate change.
Packaging
We're moving away from the 'take, make and dispose' model of production to one where we reduce our packaging footprint.
Water
Our industry's water strategy is focused on collecting enhancing and protecting our water resources. To find out more about our approach to water click through to our corporate website.
Climate change
We are committed to taking action, both to reduce our impact as an industry but also, and as importantly, to prepare for the impacts it will have on us — we know it's the right thing to do and consumers, customers and our communities expect it of us.
We are working to understand the contribution we make to climate change as an industry as well as exploring the opportunities we have to reduce our impact. This includes areas such as shipping, packaging, cool store operations and fertiliser use on our orchards. We are also investing in learning about what we can do to improve the carbon we store in soil and through our growing systems.
More importantly, we are also investing in understanding the climate risks we face and how to address them. To find out more about our approach to climate change, click through to our corporate website.
We want to make a positive contribution to people's livelihoods and wellbeing, through the returns we provide to growers, the working conditions we provide for our people, and the contributions we make in our markets.
We will continue to lift our employment standards so we attract good people and care for them appropriately.