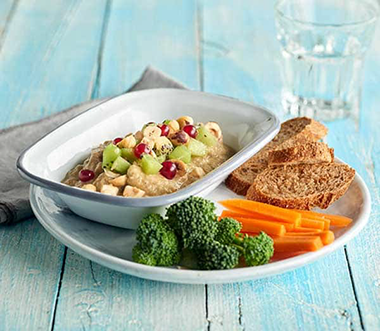 INGREDIENTS
1 large aubergine
1 clove of garlic
4 tablespoons olive oil
Juice of ½ a lemon
1 tablespoon tahini (sesame-seed paste)
Salt
Pepper
Serve with:
1 sprig fresh mint
2 sprigs fresh parsley
2 Zespri Green kiwifruit
1/4 pomegranate
2 tablespoons toasted hazelnuts
2 carrots
½ broccoli
METHOD
Cut the aubergine in half and roast, cut side down, in a preheated oven at 200º C for 40-45 minutes. Let cool.
Peel and dice the Zespri kiwifruit. Remove the seeds from the pomegranate. Chop the mint and parsley.
Scrape the roasted aubergine flesh from the skin with a spoon, discard the skin and place the flesh into the blender. Add the olive oil, garlic, tahini, lemon juice, salt and pepper.
Blend until smooth and serve in a bowl. Sprinkle with the kiwifruit, pomegranate seeds, hazelnuts and chopped herbs. Serve with carrot sticks, broccoli florets and crackers.
Tip: If you don't like raw broccoli, you can blanch it in boiling water for 2 minutes before breaking down into florets. Then drain and rinse in cold water.