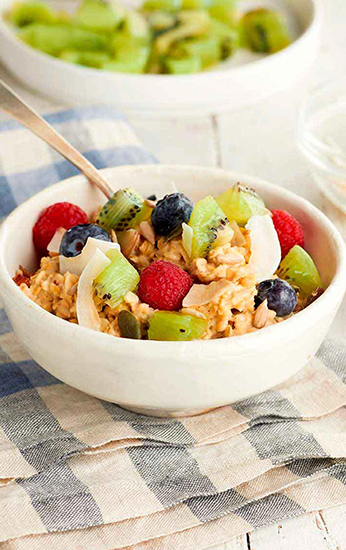 INGREDIENTS
100 g oats
1 cup plant-based or dairy milk
½ cup mineral water
1 pinch cinnamon
1 teaspoon vanilla "essence"
1 tablespoon dried red berries
1
Zespri Green Kiwifruit
15 g coconut flakes
Assorted seeds
METHOD
Put the oats in a small pan with the milk, water, cinnamon and vanilla.
Cook for 5 minutes on medium heat, stirring occasionally, without bringing it to the boil.
When it starts to thicken, add the dried fruit and coconut flakes, stir and pour into a bowl.
Peel and dice the Zespri kiwifruit and add to the bowl.
Top with the seeds and serve warm.