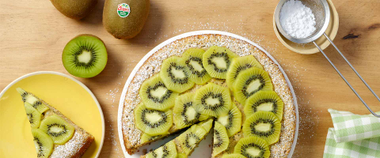 INGREDIENTS
3 Zespri™ Green kiwis
150 g spelt flour
2 eggs + 2 egg whites
40 g chia seeds (optional)
2 teaspoons yeast (10 g)
50 g brown sugar
150 g banana (1 banana)
Grated zest of one lemon
Juice of half a lemon
150 ml soy milk
40 ml lightly flavoured olive oil
Salt (3 g)
1 tablespoon of icing sugar (10 g) (optional)
METHOD
Put the flour into a bowl with the yeast, sugar, chia seeds (if used) and a pinch of salt. In other bowl, mash the banana, milk, olive oil, lemon juice and lemon grated zest.
Whip 4 egg whites until stiff, add the 2 yolks and blend gently.
Put the banana mix, egg whites and eggs into a bowl. Add the flour mix and fold all the ingredients together gently.
Preheat the oven to 180°C, pour the mixture into a round 24 cm mould and bake for 35 minutes. Halfway through the baking time, place the peeled, sliced kiwis on the top.
Take the cake out of the oven, leave to cool and remove it from the mould. Dust with icing sugar, if wished.