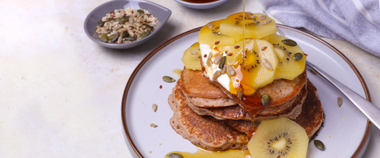 INGREDIENTS
3 ripe bananas
3 eggs
2 cups of oats
1½ tsp baking powder
1tsp ground cinnamon (optional)
A dash of almond milk
1tsp of coconut oil
Greek yoghurt
4 Zespri™ SunGold™ kiwis, peeled and sliced
Maple syrup
Mixed seeds (optional)
METHOD
In a blender or food processor combine the bananas, eggs, oats, baking powder and cinnamon (if using) and blend until smooth and well combined.
Allow the mixture to stand for a few minutes to let the oats soak up some of the liquid.
The batter should be quite thick. If you think it is too thick, then add a dash of almond milk. If it is too thin, add some more oats and blend again until it has thickened.
Heat the coconut oil in a large non-stick frying pan and spoon in the batter, forming 3-4 (depending on the size of your pan) small palm-sized pancakes.
Reduce the heat slightly (they burn fast if the temperature is too high!). Once bubbles start to appear on the surface and the edges are done, flip the pancakes using a large spatula.
Cook until golden brown and then transfer to a plate.
Serve immediately topped with a spoonful of Greek yoghurt, the sliced Zespri™ SunGold™ kiwis, a drizzle of maple syrup and a sprinkling of mixed seeds.