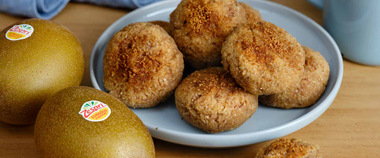 INGREDIENTS
3 bananas (250 g)
200 g ground almonds
50 g coconut sugar + 2 tablespoons (20 g) for sprinkling
2 Zespri™ SunGold™ kiwis
1 teaspoon ground cinnamon (5 g)
METHOD
Peel the bananas and mash them.
Put the mashed banana in a large bowl and add the ground almonds, coconut sugar (50 g) and cinnamon. Mix well until smooth.

Peel and dice the kiwis. Roll the dough into balls, add the kiwi pieces to them and crush them slightly.
Place the balls on a baking tray, sprinkle with the surplus sugar and bake in the oven preheated to 220° for 9-10 minutes. Leave the biscuits to cool for at least 10 minutes.