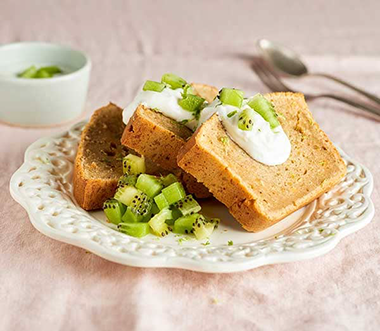 INGREDIENTS
2 Zespri Green kiwifruit
350 g banana
270 g flour
150 g sugar
50 g brown sugar
2 teaspoons dry yeast
125 g butter
3 eggs
1/2 teaspoon of salt
1/2 teaspoon ground cinnamon
1/2 teaspoon ground ginger
zest of 2 limes
plain yoghurt to serve
METHOD
Peel and mash the bananas with a fork.
Crack the eggs into a large bowl and beat them. Add the sugar, softened butter, yoghurt and banana, continue mixing. Add sifted flour and yeast, cinnamon, ginger, half the lime zest and salt. Continue stirring until smooth.
Pour the batter into a 1.5 L loaf tin greased with butter and smooth off the top with the back of a spoon.
Bake in a preheated oven at 180°C for 55 to 60 minutes. Check the centre is cooked with a skewer before removing from the oven. If it doesn't come out clean, cook 5 minutes more.
Remove and leave to cool completely. Then take out of the pan and slice. Serve with diced Zespri kiwifruit and yoghurt.