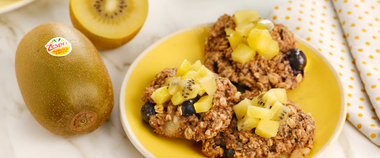 INGREDIENTS
100 g rolled oats
90 g whole wheat flour
2 teaspoons baking powder (5 g)
2 teaspoons cinnamon (5 g)
80 g brown sugar
A pinch of salt (5 g)
30 g coconut oil
20 g chia seeds
1 teaspoon vanilla extract (5 g)
50 g blueberries
1 Zespri™ SunGold™ kiwifruit
To garnish:
2 Zespri™ SunGold™ kiwifruit
METHOD
In a bowl, mix the rolled oats, whole wheat flour, chia seeds, baking powder, cinnamon, sugar, and salt. Set aside. In another bowl, mix the coconut oil and vanilla extract. Combine the two mixtures, add one chopped Zespri kiwi and the blueberries, and stir well. Let for 20 minutes in the refrigerator.
Preheat the oven to 180 ºC. Make 12 even-sized balls with the dough and place them on a baking sheet lined with baking paper. Flatten them a little, making sure there is space around each one. 
Bake for 12-14 minutes or until the edges of the biscuits are lightly browned. Let them cool on the tray until they have a firm consistency.
To finish, peel and chop the remaining kiwi. Serve on top of the biscuits or on the side.