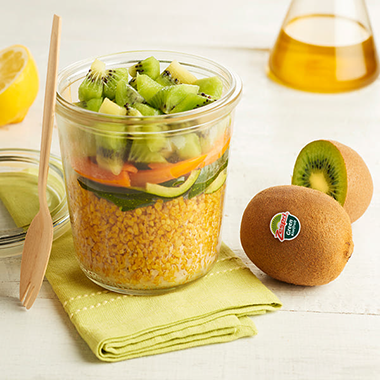 INGREDIENTS
240 g bulgur wheat
3 carrots
2 Zespri Green kiwifruit
1 small courgette
½ teaspoon ground ginger
½ teaspoon paprika
¼ teaspoon cinnamon
½ teaspoon turmeric
4 tablespoons extra virgin olive oil
lemon
salt
METHOD
Preheat the oven to 180ºC.
Clean and trim the carrots and courgette. Cut into medium-size strips and place on a baking tray. Brush with a tablespoon of oil, season and roast in the oven for 20-25 minutes
Meanwhile, cook the bulgur wheat according to the packet instructions, drain and reserve.
Heat another tablespoon of oil in a non-stick frying pan, add the ground spices & drained bulgur wheat and cook gently for 1 minute, stirring so that the spices coat the wheat evenly. Take off the hob and transfer to a salad bowl.
Now add the roasted carrots, courgette and diced kiwifruit, 2 tablespoons of olive oil, lemon juice and a pinch of salt. Stir to combine and either enjoy straight away, or keep in a container for a delicious meal on the go.