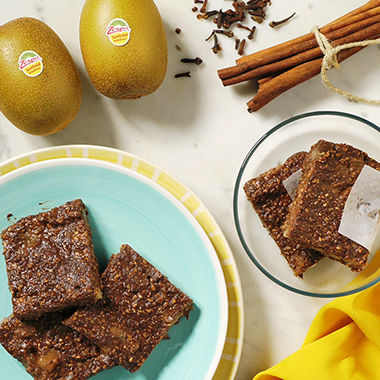 INGREDIENTS
1 tablespoon coconut oil
2 tablespoons agave nectar
2 tablespoons almond milk
60 g dark chocolate
A pinch of salt
2 tablespoons pumpkin seeds
4 tablespoons chia seeds
2 tablespoons flaxseed
4 tablespoons hemp or sunflower seeds
35 g sesame seeds
1 teaspoon cinnamon
A pinch of ground cloves
METHOD
In a small saucepan, heat the almond milk, coconut oil and nectar. Remove from the heat before it boils and pour over the chopped chocolate. Leave to rest for 2 minutes. Add a pinch of salt, cinnamon and cloves, then stir.
Grind the pumpkin, chia, hemp and flaxseed into meal. Add to the chocolate with the sesame seeds and peeled, diced Zespri kiwifruit. Stir well.
Pour the mix into a baking tray lined with baking paper and spread evenly. Cut into portions and leave to cool in the fridge for 24 hours. Ready to enjoy.
 Tip:The bars can be stored in the refrigerator for several weeks when properly wrapped.