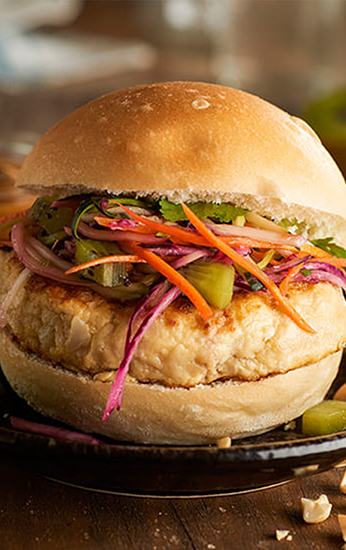 INGREDIENTS
500 g boneless chicken breast, finely chopped or minced
1 spring onion, finely chopped
1 clove of garlic, finely chopped
1x1 cm slice of ginger
2 tablespoons of fresh bread crumbs
1 egg, beaten
2 tablespoons plain flour
4 burger buns, split and toasted on one side

Salad topping:
2 Zespri Green Kiwifruit
100 g red cabbage, shredded
100 g courgette
100 g carrot
4 sprigs of coriander
2 sprigs of mint
1/2 a lime
4 tablespoons of olive oil
30 g of raw peanuts
Salt
Pepper

For the Thai peanut sauce:
2 tablespoons peanut butter
2 tablespoons brown sugar
2 tablespoons olive oil
1 tablespoon rice vinegar or white wine
2 tablespoons soy sauce
1 teaspoon of fish sauce (optional)
1 teaspoon grated ginger
METHOD
To prepare the hamburgers, mix the garlic, onion and ginger in a bowl with the chicken and enough egg to obtain a firm mix.

Divide into 4, form into equally sized patties and lightly dust with flour. Set aside.

Clean the salad vegetables and shred or grate with a mandolin, grater or food processor. Place in a bowl and add the peeled and chopped Zespri Green kiwifruit, herbs, juice and grated skin of the lime, half the oil and the salt and pepper. Set aside

For the Thai sauce, mix all the ingredients in a bowl.

Heat a non-stick frying pan to medium-hot, add the remainder of the oil and cook the patties for a few minutes on each side until cooked through.

To serve, place the burgers on the buns, top with salad and spoon over some of the sauce.