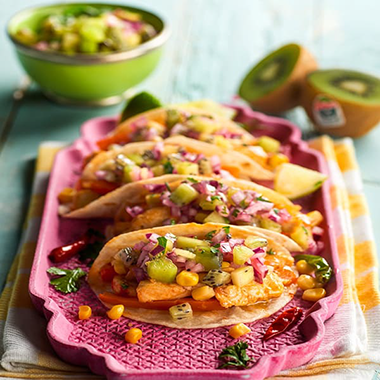 INGREDIENTS
8 tortillas
3 chicken breasts
2 red peppers
1.5ml tomato sauce
6 drops Tabasco sauce (or finely chopped chilli)
1 tin sweetcorn
2 Zespri Green kiwifruit
2 red onions
1 bunch coriander
1 lime
Olive oil
Pepper
Salt
METHOD
Cut the chicken into strips and sauté them in a pan with a tablespoon of oil until golden brown. Season with salt and pepper and set aside. In the same pan, add 2 tablespoons of oil and sauté one sliced onion and the peppers cut into strips for 10 minutes, stirring frequently. Season with salt and pepper, return chicken strips to pan, add tomato sauce and Tabasco and cook 2 minutes more.
Grind remaining onion with lime juice, half glass of water, pinch of salt and pepper and chopped coriander to form a thick paste.
Fill the tortillas with the mix from the pan and top with diced Zespri Green kiwifruit and sweetcorn. Top with the coriander sauce and a few chopped leaves of fresh coriander. Serve right away.