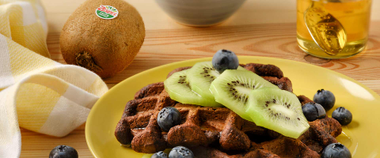 INGREDIENTS
Waffles:
40 g fine ground oat flakes
110 g ripe banana
1 egg
20 g egg white
1 teaspoon active dry yeast (8 mg)
20 g cocoa powder
To decorate:
2 Zespri™ Green kiwis
100 g blueberries
10 ml agave syrup
METHOD
Put the oat, yeast, sliced banana, egg, egg white and cocoa in the blender glass. Blend until the mixture takes on a fine, creamy texture and leave to stand for a few minutes.
Pour a little batter onto the waffle griddle and remove when the waffles are golden. Repeat the operation until the batter is used up.
Peel the kiwi and cut into thin slices. Decorate the waffles with the kiwi, the blueberries and the syrup.