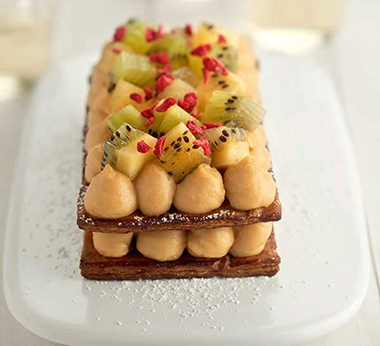 INGREDIENTS
1 sheet of fresh or frozen puff pastry or filo pastry
2 Zespri SunGold kiwifruit
2 Zespri Green kiwifruit
1 tablespoon icing sugar (optional)
For the crème pâtissière:
1 teaspoon stevia
3 egg yolks
250 ml milk
25 g cornflour
1 vanilla pod
METHOD
For the crème pâtissière: Pour the milk into a pan, open the vanilla pod lengthwise, adding it to the milk and bring to boil. Meanwhile, whisk the egg yolks and stevia together and add the cornflour. Remove the milk from the heat, take out the vanilla pod then slowly add the egg yolks, stirring the mixture with the whisk. Return the cream to the pan and cook over a gentle heat, stirring continuously until the mixture thickens. Remove from the heat, stirring occasionally.
Spread the sheet of puff pastry onto an oven tray lined with baking parchment and cut it into 12 equal pieces. Prick the surface with a fork. Preheat the oven to 190 ºC. Flatten the squares using another oven tray or fireproof glass mould as weights and bake for 25 minutes.
Leave the pastry squares to cool and spread a thin layer of crème pâtissière over the top, covering them with another pastry square. Cover with pieces of peeled Zespri kiwifruit.