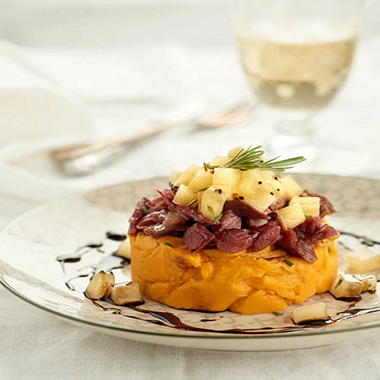 INGREDIENTS
For the sauce:
1 large glass of sherry wine
1 teaspoon cornflour
1 orange
For the purée:
800 g sweet potatoes
1 onion
2 tablespoons virgin olive oil
nutmeg
salt
pepper
METHOD
For the purée: roast the sweet potatoes and the onion in the oven for 45-50 minutes, until they are soft. Wait until they have cooled and then remove the skin. Put them in the blender with the olive oil, salt, pepper and nutmeg, and blend together. Put to one side.
For the sauce: wash the orange, cut off a strip of peel and squeeze the juice. Pour the wine in a saucepan and bring to boil. Let it reduce for 4 minutes, until the alcohol has evaporated. Add the peel and orange juice, and simmer for another couple of minutes. Dissolve the cornflower in two tablespoons of cold water then add the mixture to the boiling sauce. Lastly, season with salt and pepper and put aside, leaving it in the same saucepan.
Heat the duck legs in a pan until warm then remove from the heat. Pull the flesh off the bone and tear into bite-sized pieces. Return the meat to the pan, adding a few leaves of chopped rosemary; heat slowly to stop it from becoming dry. Heat the purée. Peel and finely dice the Zespri SunGold kiwifruit.
Using a metal ring, pour the purée onto the plates, cover it with the hot duck meat and then add the kiwifruit. Carefully remove the ring and finally spoon the sauce over the top. Serve at once, whilst still hot.