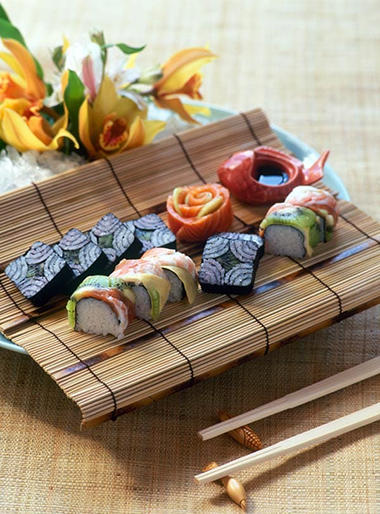 INGREDIENTS
200 g (7 oz) cooked sushi rice
½ sheet nori
1 egg, made into an omelette
1 Zespri Green kiwifruit, peeled and thinly sliced
50 g (2 oz) salmon
3 poached prawns 
You will also need a bamboo rolling mat.
METHOD
Cover your bamboo rolling mat in cling-film.
Place the fillings in a thin layer on your covered bamboo mat to approximately the same size as the sheet of nori.
Place the sheet of nori on top of the fillings, shiny side down and, using wet hands, cover 2/3 of the sheet with rice.
Carefully roll up the sushi using the bamboo mat, pressing down the fillings gently as you go.
Once rolled, slice into pieces with a wet knife. 
Serve with dipping sauces.