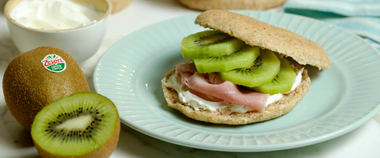 INGREDIENTS
Pita bread:
200 g whole wheat flour
4 g dry baker's yeast 
1 teaspoon salt (5 g)
60 ml olive oil
80 g sugar
80 g natural skimmed yoghurt
80 ml water
Served with:
2 Zespri™ Green kiwis
160 g sliced cooked ham (about 8 slices)
160 g low fat cream cheese
METHOD
Mix the water, yeast and 1 teaspoon of sugar in a bowl. Let the mixture stand in a warm place for about 5 minutes.
Put the flour and yoghurt in a bowl. Add the salt, olive oil and yeast mixture. Mix until all the ingredients are well blended. Knead for 7-10 minutes, adding more flour if necessary. Cover with a clean cloth and leave to stand for 2 hours in a warm place with no draughts.

Then divide the dough into 8 portions and form 8 balls. Cover again with a cloth and leave to stand for 20 more minutes.

Shape the pita bread into rounds with your fingertips. Preheat the oven to 250°C and place the bread rounds on a shelf lined with vegetable parchment. Bake for 8 minutes, turning halfway through the cooking time. Leave to cool on a rack.

Peel the kiwis and cut into rounds. Spread the cheese on the pita bread rounds, followed by the ham slices and lastly, the kiwi rounds.