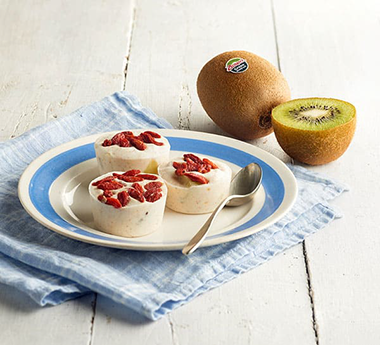 INGREDIENTS
1 cup Greek yoghurt
1 tablespoon coconut oil
½ cup diced Zespri Green kiwifruit
1 tablespoon vanilla
1 pinch cinnamon
½ cup goji berries
METHOD
Prepare silicone muffin or bonbon moulds. Put the yoghurt in a bowl. Add the vanilla and cinnamon and stir well.
Put a little into the base of each mould.
Add the finely diced Zespri kiwifruit on top.
Cover with more yoghurt, another spoonful of diced kiwifruit, and then more yoghurt.
Decorate the top with the goji berries and put in the freezer.
Wait for it to harden (at least two hours, depending on the size of the mould).
Remove 5 minutes before eating.