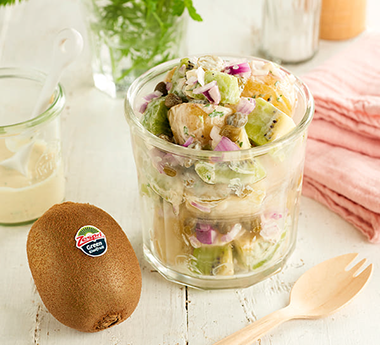 INGREDIENTS
700 g baby new potatoes
1/2 small red onion
2 Zespri Green kiwifruit
30 g pickled gherkins, sliced
1 tablespoon pickled capers
For the dressing:
125 g natural yoghurt    
1 tablespoon honey
1 sprig parsley
1 sprig dill
1 tablespoon lemon juice
1 teaspoon mustard
pepper
salt
METHOD
Cook the potatoes in their skins in lightly salted water for 15-20 minutes or until tender. Drain, cool and slice into halves or quarters. Place in a salad bowl and leave to cool down completely.
Peel and dice the Zespri kiwifruit. Place in the bowl with the potatoes, along with the chopped onion, sliced gherkins and capers.
Pour the yoghurt into a bowl and dilute with lemon juice. Add the mustard, honey and chopped parsley and dill with a pinch of salt and pepper. Whisk until well-combined
Dress the potatoes with the mixture and serve.