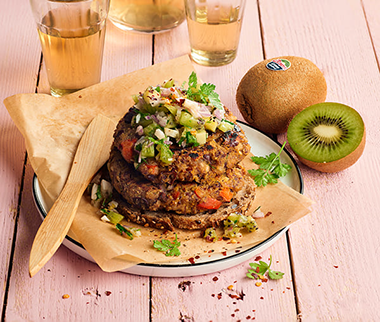 INGREDIENTS
2 cups cooked pinto beans
½ medium-sized onion
2 cloves garlic
½ red pepper
2 tablespoons ground linseed
3 tablespoons chickpea flour (or gram)
3 tablespoons extra virgin olive oil
a pinch turmeric
1 sprig fresh parsley or coriander
salt
pepper
4 gluten free wholemeal seeded bread slices (roughly 80 g each)
For the sauce:
2 Zespri Green kiwifruit
1/2 red onion
Juice of 1 lime
1 tablespoon extra-virgin olive oil
2 sprigs fresh coriander or parsley
salt
pepper
METHOD
For the burger: start by chopping the onion, garlic and red pepper as finely as possible.
Heat 2 tablespoons of oil in a non-stick pan and gently sauté the garlic, onion and red pepper for 10 minutes, until softened. Meanwhile, roughly mash the cooked beans with a fork.
Combine the sautéed vegetables, chickpea flour, chopped herbs, spices, seeds, salt and pepper and mix well. Leave to stand in the fridge for 1 hour.
Preheat the oven to 180 ºC.
Using wet hands, divide the mixture into 4 equal amounts and shape into patties. Now place these on a baking tray which has been brushed with the remaining oil and bake in the oven for 20 minutes.
For the salsa: peel and dice the Zespri kiwifruit. Peel and thinly slice the onion. Place the onion and kiwifruit in a bowl, add the lime juice, coriander, oil, salt and pepper and mix well. Serve on top of the burger alongside a slice of wholemeal seeded bread.