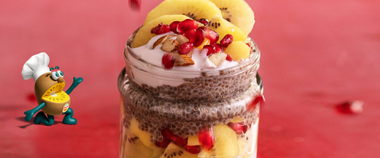 INGREDIENTS
2 tbsp Chia seeds
125 ml Rice milk
3 tsp Maple syrup
40 g Nutty granola
200 g Coconut yoghurt
2 Zespri™ SunGold™ kiwis, peeled and roughly chopped
700 g Mango, roughly chopped
50 g Pomegranate seeds
1 tbsp Mixed nuts or preferred seeds, roughly chopped
METHOD
Combine the chia seeds, rice milk and tsp of maple syrup in a bowl. Cover and chill overnight or for at least 8 hrs.
To serve, divide the granola between 2 glasses or jars and top with alternating layers of the chia seed mix, yoghurt and fruit.
Finish with a scattering of nuts and seeds to your liking over the top.