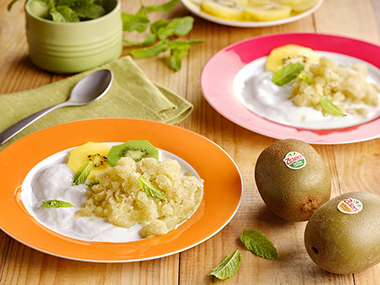 INGREDIENTS
300 g Zespri™ SunGold kiwifruit, peeled and diced
300 g Zespri™ Green kiwifruit, peeled and diced
300 g melon
15 g fresh root ginger, peeled and chopped
3 tablespoons caster sugar
Zest and juice of 1 lime
4 sprigs of fresh mint
6 tablespoons of plain yoghurt
METHOD
Put the prepared ginger in a small saucepan with 5 tablespoons of water and 3 tablespoons of caster sugar. Cook over low heat until the syrup starts to thicken. Remove the ginger with a slotted spoon and reserve the ginger syrup.
Remove the rind and seeds from the melon and roughly chop the flesh. Blend the fruit and the drained ginger with the lime juice, zest and some mint leaves.
Pour into a container, then freeze for 4-5 hours (stirring with a fork every 30 minutes) until it turns into a granita.
Serve the granita on a plate or in a bowl with yoghurt and top with ginger syrup and the rest of the mint leaves.
Tip: If adding yoghurt, it's best eaten immediately.