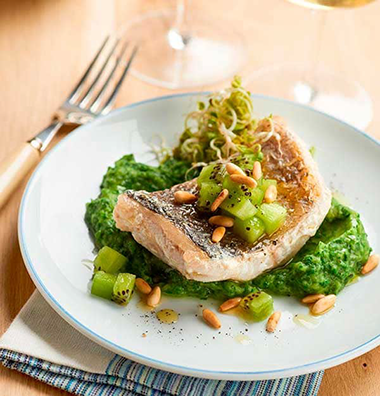 INGREDIENTS
300 g chard
300 g potatoes
600 g diced hake
2 Zespri Green kiwifruit
1 punnet beetroot or red cabbage sprouts
20 g pine nuts
4 tablespoons extra-virgin olive oil
pinch of nutmeg
Salt
Pepper
METHOD
Wash and chop the chard. Peel and dice the potatoes. Steam the vegetables for 12-15 minutes or until soft. Season with salt and pepper, nutmeg and 2 tablespoons of oil. Then mash with a fork or hand mixer.
Toast the pine nuts in a pan until they start to brown. Peel and finely dice the Zespri Green kiwifruit.
Cut the hake into 4 equal pieces, season with salt and pepper and sear on the grill or in a hot pan for one minute on each side. Put the hake on a plate and cover with film. Puncture the film in a few places. Put in the microwave for an additional minute or minute and a half.
Put the chard and potato mash onto four plates. Then put the fish on top of the mash and top with the kiwifruit, sprouts and pine nuts. Ready to serve.