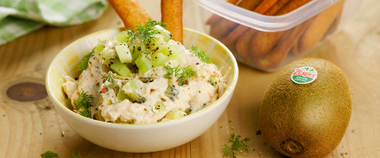 INGREDIENTS
For the sticks:
40 g natural yoghurt
40 g olive oil
5 g sugar
1 egg (60 g)
65 g whole wheat flour
5 g baking powder
A pinch of salt (2 g)
For the salmon cream:
100 g smoked salmon
150 g light cream cheese
2 Zespri™ Green kiwifruit
A few sprigs of dill
2 g pepper
METHOD
For the sticks: Mix the ingredients in a bowl and whisk until smooth. Place the mixture in a piping bag with a smooth nozzle that is not too thick.
Preheat the oven to 200 °C. Line a baking tray with greaseproof paper, squeeze the bag to shape the sticks and place them in the oven. Bake for 15 minutes or until golden brown. Let them cool on a wire rack.
For the cream: Peel the kiwis and dice them. In the blender, add the salmon, cream cheese, dill, salt and pepper and blend until smooth. Add the kiwifruit and mix.
Serve the cream sprinkled with a little extra dill. Serve together with the sticks.