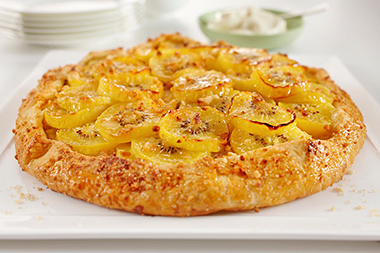 INGREDIENTS
Pastry:
250g plain flour
50g icing sugar
150g cold unsalted butter, finely chopped
¼ tsp salt
¼ cup iced water
Filling:
100g macadamia nuts
2 tbsp honey
¼ cup demerara sugar
1 tbsp plain flour
8 – 10 medium Zespri SunGold kiwifruit, peeled and sliced
1 egg, beaten
1 tbsp cream
METHOD
Pastry:
Place flour, icing sugar, butter and salt in a food processor. Process until mixture resembles breadcrumbs.
Add water and process again until it comes together. Do not over mix.
Remove from food processor, shape into a disc and wrap in plastic wrap.
Refrigerate for 1 hour.
Note: you may substitute this recipe for sweet short crust pastry sheets.
Filling:
Preheat oven to 180°C.
Roast macadamia nuts by placing on a baking tray lined with baking paper and drizzle with honey. Bake for about 10 minutes or until their colour turns golden, turn once. Allow to cool and chop or process until coarsely ground.
Roll out pastry to a width of 30 cm in a circular shape, place on baking tray lined with baking paper.
Combine ¼ cup of demerara sugar, sifted flour and ground honey roasted macadamia nuts.
Spoon approximately ⅔rds of macadamia nut mix onto pastry, leaving 4 cm clear around the edges.
Lay the Zespri SunGold kiwifruit slices over top of the macadamia nut mix.
Fold up the clear area of pastry, providing a bowl like edge.
Combine the egg and cream and brush over the pastry. Sprinkle the remaining ⅓rd of the macadamia nut mix over the Zespri SunGold kiwifruit slices and pastry.
Bake for approximately 45 minutes, or until pastry is a golden brown and the Zespri SunGold kiwifruit is starting to caramelize.
Serve warm with crème fraiche.