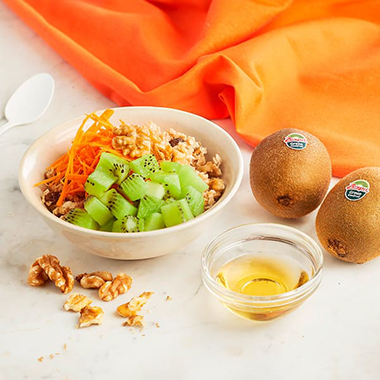 INGREDIENTS
400 g chopped oats
300 mL soya or plant-based milk
300 mL mineral water
4 chopped dates
2 teaspoons of raisins
120 g grated carrots
1 tablespoon chopped pecans or walnuts
2 tablespoons agave nectar
1 teaspoon ground spices: cinnamon, ginger, cloves
METHOD
Bring the water and milk to the boil. Add the dates, raisins and spices. Then add the oats and cook on a low heat, covered, for 2 minutes. Remove and leave to rest for a few minutes.
Peel and dice the Zespri kiwifruit. Put the oatmeal into 4 bowls and add the kiwifruit, carrot, nuts and agave nectar.
Tip: You can also top it with a bit of coconut cream.