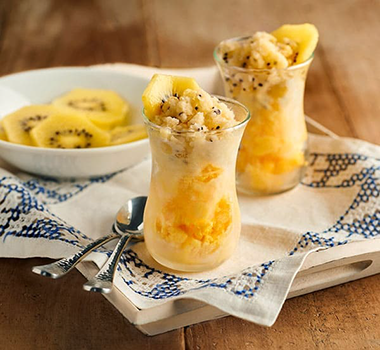 INGREDIENTS
500 g Zespri SunGold kiwifruit
400 g ripe apricots
A few mint leaves
1 lime
2 tablespoons of agave nectar (optional)
METHOD
Setting aside one Zespri kiwifruit for slicing, peel and blend the remainder until you have a smooth puree.
Wipe the apricots, slice them in half, remove the stone and blend them with the mint. Add a dash of lime juice to each flavour and a little agave nectar if you want the puree to be sweeter.
Now place the two purees in separate containers and place in the freezer.
Freeze for 2 hours, and then break up the ice crystals by scraping and stirring with a fork.
Return to the freezer for 2 more hours and break up the crystals again until you get a slushy. Keep the mixtures in the freezer until ready to serve.
To serve. Layer up the two colours in a decorative glass. Decorate with sliced kiwifruit and mint leaves.