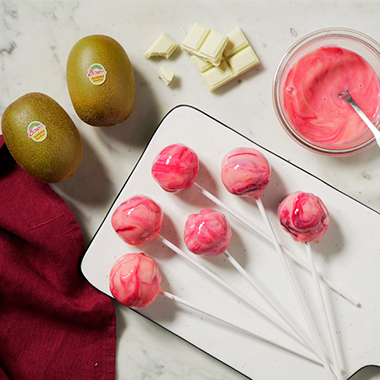 INGREDIENTS
For the balls
200 g standard sponge cake (from the bakery)
80 g white chocolate (for melting)
50 g cream cheese
1 tablespoon icing sugar
Cake-pop sticks
 For the icing
3 tablespoons of water and 60 ml water
100 g sugar
1 and 1/2 tablespoons powdered gelatine
55 g condensed milk
125 g white chocolate (for melting)
Food colouring paste: red
METHOD
For the balls: Peel and dice the Zespri kiwifruit. In a bowl, combine the cake crumbs and half the melted white chocolate (40 g), cream cheese and sugar. Mix into a sticky, smooth batter. Fold in the kiwifruit. Roll into equal balls and leave to dry on baking paper.
Melt 2/3 of the remaining white chocolate (of the 40 g). Then add the last 1/3 chopped up and stir. Dip the tip of the pop stick into the chocolate and then stick it into one of the balls. Repeat with the rest. Put them in the freezer.
For the icing: In a small bowl, hydrate the gelatine in 3 tablespoons of water and leave to rest for 5 minutes.
In a saucepan, mix 60 mL water, sugar and condensed milk. Bring to the boil. Remove from the heat, add the gelatine and whisk until fully dissolved. Strain into the white chocolate and leave to rest for 2 minutes. Blend until smooth.
Put into a tall glass, add drops of red food colouring. Don't mix. Dip the cake pops into the mix and swirl the stick for a marbled effect. Stick the pops into a cup with brown sugar or rock salt to harden.