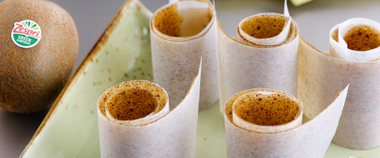 INGREDIENTS
4 Zespri™ Green kiwifruit
1 lime juiced
60 g sugar
METHOD
Peel and dice the kiwifruit. Put into a food processer and process until smooth. Strain the juice through a fine mesh sieve and reserve the purée.
Add the lime juice and sugar to the kiwifruit purée, stir until smooth. Pour the purée onto an oven tray lined with parchment paper and spread evenly. It should be about 5mm thick.
Bake in a preheated oven at 80°C for 3 hours or until dry.
Remove from the oven, leave to cool, and cut into strips with the parchment paper. Roll up and serve.