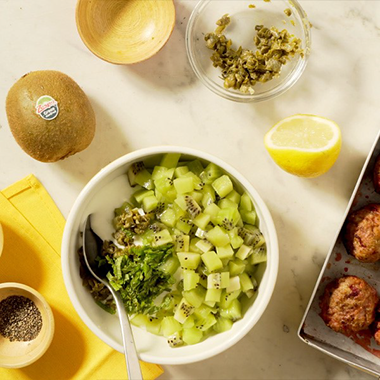 INGREDIENTS
75 g wheat bits
250 g raw beetroot
400 g lamb mince
1 small onion
2 cloves of garlic
1 tablespoon chopped parsley
3 tablespoons olive oil
For the sauce
200 g plain yoghurt
5 leaves fresh mint
1 tablespoon of pickled capers
Splash of lemon juice
Salt
Pepper
METHOD
Put the wheat in a bowl and cover with boiling water. Leave to rest.
Peel the beetroot and grate roughly. Mix with the lamb, chopped garlic, parsley, salt and pepper. Drain the water from the wheat by pressing with your hands and mix with the mixture. Shape into balls, cover and leave to rest for 1 hour in the fridge.
Heat the oil in a pan and brown the meatballs. Then put them in a baking pan in one layer and cook in a preheated oven at 180° C for 15 minutes.
Peel and dice the kiwifruit. Combine the diced Zespri kiwifruit with the yoghurt, minced capers and chopped mint. Add a drizzle of lemon juice, salt and pepper. Stir and serve in a bowl with the meatballs.