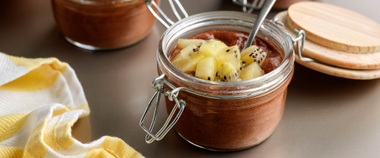 INGREDIENTS
25 g brown sugar
125 g 70% cocoa chocolate or quality fondant chocolate
60 g evaporated milk
2 eggs
2 g salt
2 Zespri™ SunGold™ kiwifruits
METHOD
Heat the sugar, chocolate and milk in a saucepan, stirring with a whisk until everything is dissolved and integrated. Remove from the heat.
Separate the egg whites from the yolks and add the 4 yolks to the chocolate mixture.
Whip the egg whites until stiff with a pinch of salt. Gradually add the whipped egg whites to the previous mixture, with gentle wrapping movements from bottom to top. 
Pour the desired amount into each glass and chill in the refrigerator for at least 3 hours.
Peel and cut the kiwis into small cubes. Remove the mousses from the refrigerator and decorate with the kiwi.